One of a foreman's biggest concerns is keeping his construction clean and tidy from debris and waste products. It looks better when the owners of the site stop by and it's safer for people working in the area. There are several things to look for when choosing an Edmonton construction bin rental.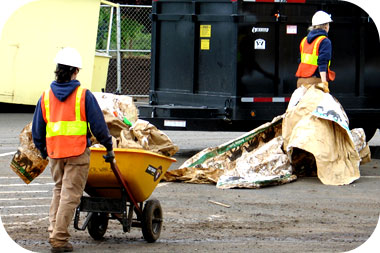 What You Should Expect
1. HIGH QUALITY SERVICE
With a professional Edmonton construction bin rental, foremen should expect high-quality service. The company they choose should provide fast delivery service of the bin, including emergency placement if needed.
2. TIGHT SPACES – NO PROBLEM
The Edmonton construction bin rental company should also provide placement in tight areas rather than just a standard drop-off. A&A Disposal is a top-notch company that provides all of this and more. They promise to put it where the crew needs it so they don't have to worry about moving it when they arrive on-site or dealing with a bin in an inconvenient location.
3. COST EFFECTIVE
Since these bin rentals can be long-term for a large construction project or one with multiple phases, it should also be cost-effective.
4. YOUR NEEDS, WHEN YOU NEED IT
A&A Disposal provides clean and frequent pickup of bins according the needs of the project. There is also someone on call for YOU, 24/7 should you need to speak with us or have a bin delivered. A&A Disposal is always available to provide a bin rental in an emergency to keep construction crews working. Their drivers are also skilled at getting the bin in the correct spot even if it isn't the easiest to maneuver.
5. LEED
They are also an Edmonton construction bin rental company concerned with preserving the environment instead of trashing it with their waste products. That is how they provide LEED for disposal that is environmentally friendly. It also reflects on the construction company their concern for the environment.
6. ONE STOP SHOP
A&A Disposal also offers discounted or free advertising in the form of signs for the construction company when they partner with A&A Disposal. This allows them to get their company name on an entrance sign or on the bin they are using. The bins themselves, also have the option to display the client's name when it is taken between the dump and construction site. Free advertising is always good to help ensure the next construction project. A&A Disposal also provides, toilets and fencing for your site at discounted rates. This assists the estimators in preparation of new and upcoming projects.
The right Edmonton construction bin rental company can make cleanup easier and keep a site looking neat and tidy even with construction going on around it.
Photo Credit: Intercom Serv