Because construction and builders play a big role in what goes into the environment, they also have a major influence of being green in their practices. Here are ways that they can help protect the environment while providing the services needed.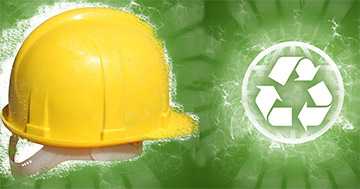 Plastic Insulation
One way companies can focus on green construction is through their choice of materials, one of the most important being insulation. Rigid and foam blown insulation is a better option than traditional materials because it is created from plastic that is more biodegradable and uses less gas in application.
Plumbing
Plastic is also a better choice than other materials for plumbing. It reduces thermal loss because it is better insulated and there is very little condensation. The manufacture of plastic plumbing uses less energy compared to other materials. It also costs less in other ways such as transportation because it is lightweight.
In addition, builders can recommend eco-friendly water heaters and low flow toilets in their projects to conserve water as part of their green construction. It will save the building owners in monthly water costs once they realize the benefits.
Recycling
Another area that construction crews and builders can help the environment is in the reuse and recycling of building products. Leftover materials from a project or items from a demolition can be recycled instead of just thrown away. Bin rental companies like A&A Disposal will take care of the recycling for the companies. This saves the company time while still disposing of the materials in a responsible way.
Builders and homeowners can find many ways to be ecologically responsible whether they are building a new space or renovating an old building. From the materials they use to the way they handle discarded items, they can play a major role in protecting the environment and the people around them.